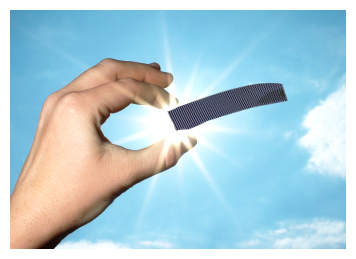 Imagine a window covered in solar panels that is still completely translucent or a jacket lined by solar panels that bend like fabric.  ADMET recently worked with a leading university that was conducting research on a new type of photovoltaic (solar powered) film. These thin, flexible solar film could significantly expand our use of solar energy in the future.
The university was looking for a system to test this solar film under various environmental conditions. To simulate how the panels would perform in the real world, the university needed to perform tension fatigue tests on the solar film while exposing it to light and temperature changes. To satisfy these requirements, the testing system would need to be able to keep the sample directly under the university's light chamber. Because the university was measuring the actual solar performance of the panels in addition to its mechanical strength, easy access to the sample when inside a temperature chamber was necessary.
ADMET engineers visited the university's laboratory to fully understand their testing needs and research goals. After careful discussions with the university, we agreed that a modified version of the eXpert 4000 would be ideal this application. The eXpert 4000 is a full featured miniature testing machine capable of performing all the same mechanical tests you can perform with common table-top models.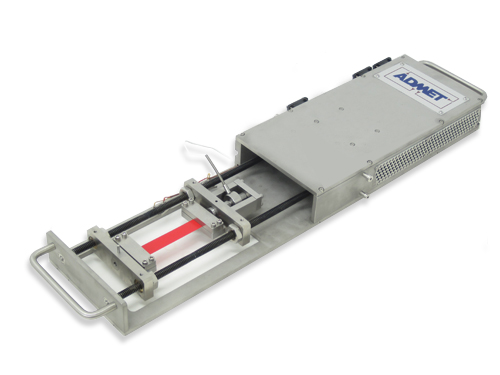 Standard eXpert 4000 next to MTESTQuattro (left)
Extended eXpert 4000 for Chamber insertion (right)
Unlike most testing machines, the eXpert 4000 has two moving crossheads.  This keeps the center of the specimen in one position allowing the university to maintain its light source directly above the sample during the entire test. Several modifications were made to allow users to quickly insert and remove the eXpert 4000 from a temperature chamber. We extended the length of the eXpert 4000's testing surface, added a top handle, and cut a precision insert at the top of our temperature chamber. The video below shows how easy it is to insert the eXpert 4000 into the chamber.
Design, build, and delivery took only six weeks. When the system was complete, our applications engineers went to the university to install the system and train the staff. The system is currently fully operational and no problems have been reported to our service team.
Knowing that our systems are helping innovators develop better technologies motivates us to continuously improve our products and services.
Useful Links