ASTM D5034 is a popular testing standard for those needing to determine the breaking strength and elongation of woven, nonwoven, and felted fabrics and textiles. This quick summary is intended to help you understand the basic grab test procedure and the equipment you need to perform this test with accuracy. For a complete description of the test, please refer to ASTM D5034.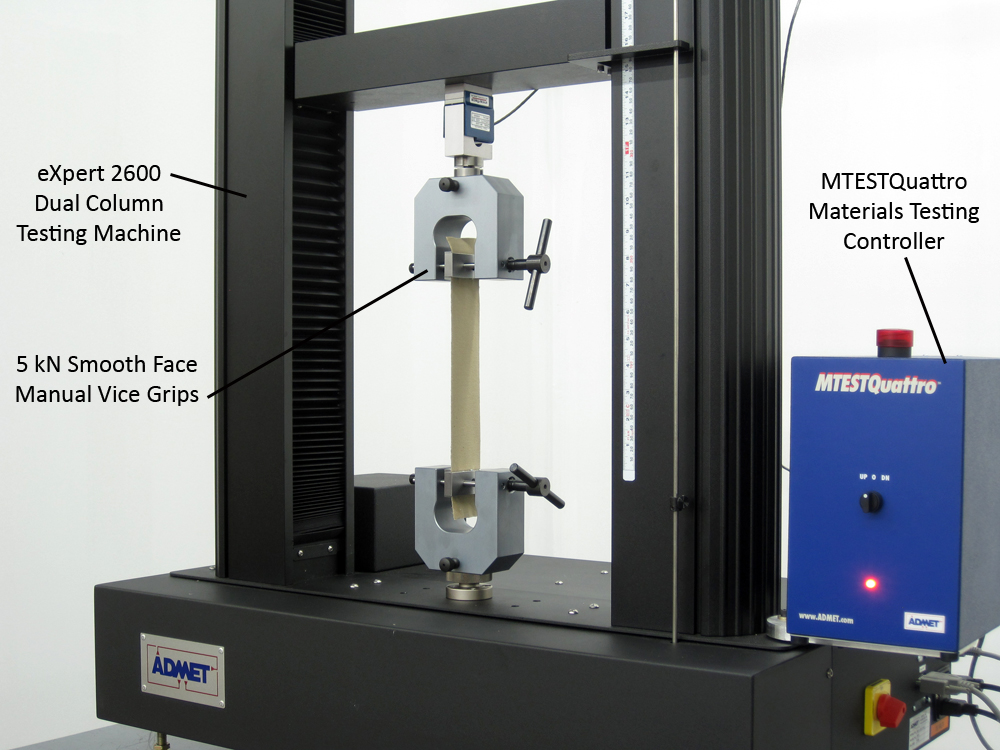 Procedure:
1. Cut the fabric into a rectangular shape making sure the longer dimension is parallel to the direction you want to test (machine or cross). Drawing a line along the long segment of the fabric will help you align the sample into the grips.
2. Load and secure the prepared specimen into a pair of clamps. The image below shows an appropriate grip for this test.
3. Begin separating the grips at a the specified rate.
4. End the test when the fabric breaks (rupture).
Analysis:
1. Breaking force: The average force required to break (rupture) the sample.
2. Elongation: The average increase in length of the sample at its break (rupture) point.
ADMET testing controllers are capable of displaying both these analyses on screen (computer monitor or touch panel LCD).
To complete this test a Universal testing machine (tensile testing machine) with these minimum specifications is required:
A machine frame and load cell with a maximum force range and crosshead travel that suits your material's characteristics.ADMET offers a full range of testing machine frames in single or dual column configurations. Load capacity and physical space requirements should determine which system is best for your application.
A testing controller to keep a constant rate of speed during the test and displaying load and elongation at break. MTESTQuattro®, our most advanced testing controller, is a PC-based unit that offers a wide range of flexibility in control, data acquisition, analysis, and reporting. The eP2 Digital Controller, a standalone touch panel unit, offers a balance between performance and simplicity. Both controllers satisfy the above requirements.
A pair of grips/clamps with smooth surface jaw faces sized according to those listed in the specification. There are different sized jaws that can be used. It is common to use faces that are 1in width x 1in height.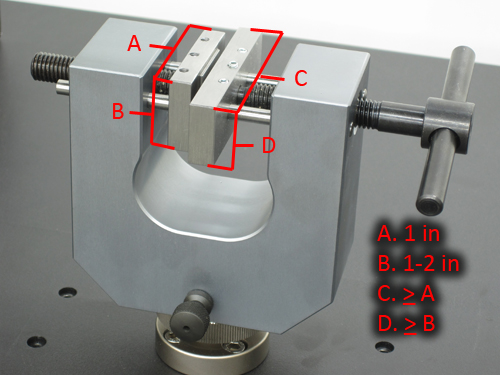 Click here to request a quote.