ASTM D903 is one of the most commonly performed adhesive strength tests. An adhesive is bonded to a material and peeled back at 180 degree angle to measure average peel strength. This post is intended to help you understand the basic test procedure and the equipment needed to perform this test with certainty. When you are ready to test your adhesives to this standard, please refer to and follow the steps in the official ASTM D903 specification.
Procedure:
Prepare at least 10 of each specimen following the guidelines in the specification. A specimen consists of two parts: a flexible adhesive (defined as one that can able to fold back and peel at 180° angle) and a substrate material (e.g. metal, wood, rubber, textile) to bond the adhesive to.
Bond 6 in of the adhesive to the substrate material, fold back the free end of the adhesive to a 180 degree angle.
Secure the top of the substrate material with the vise grip on the testing machines crosshead.
Making sure that there is at least 1 inch of separation between the free end of the adhesive and the substrate material, secure the free end of the adhesive with the other vise grip.
Ensure that the sample is in the plane of the vise grips and zero the testing machine.
Begin to move the crosshead at the specified rate until you have peeled at least half of the bonded section.
Record average load.
Repeat this procedure at least 10 times per adhesive.
Analysis:
Peel or Stripping Strength: Average load required to peel the adhesive at a 180° angle.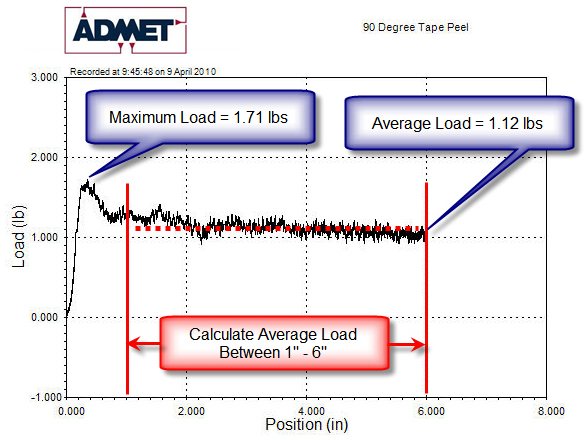 Equipment Recommended:
A servo-controlled (constant rate of motion) testing machine capable of peeling the sample at the specified rate. ADMET offers a full line of single and dual column electromechanical testing machines.      
A testing controller capable of displaying a load/position graph and calculating average load. Both MTESTQuattro, our most advanced PC based controller, and the eP2 Digital Controller, a standalone touch panel unit, offer this capability.    
A pair of vise grips to secure the specimen. ADMET offers a full line of manual and pneumatic grips.