Most plastic tensile property tests, including tensile strength, elongation (at yield or break), and modulus of elasticity are performed on "dogbone" shaped specimens measuring 3 or more inches in length and .25 inches or more in width.  In some cases, the application or availability of a material will require that a Microtensile specimen be tested. Microtensile are usually no more than 1.5 inches in length and .25 inches in width.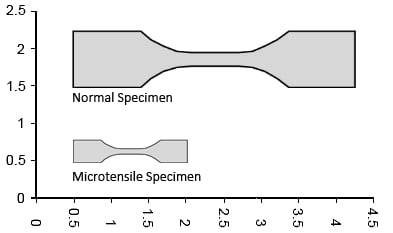 There are several ASTM standards that make reference to Microtensile specimens, most notably and common:
The following describes a standard testing procedure for a tensile test performed on a plastic Microtensile specimen:
Cut the specimen to the appropriate dimensions ensuring that all surfaces are free of visible imperfections.
Carefully measure all specimen dimensions.
Secure the specimen with the tensile grips on the testing machine.
Choose an appropriate rate of speed for your material classification.  Each specification has a unique speed, generally they are low — less than 2" per minute.
Separate the grips until the sample breaks.
Have your machine set to report yield strength, percentage elongation, and tensile strength.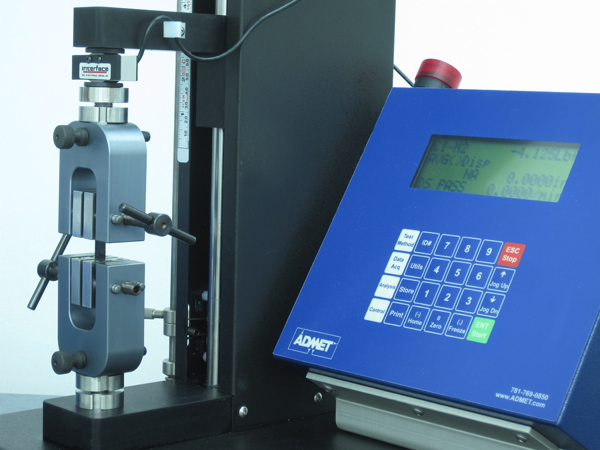 The specimen taper area (portion that connects the wide area of the dogbone which is held in the grips to the narrow middle section of the dogbone that is the gauge length) on Microtensile specimens is usually very small which reduces the amount of stretch in the tapered portion.  This is most likely the reason the specifications state that it is permissible to calculate elongation based from the machine's built-in grip separation reading rather than from a clip-on extensometer.
Virtually all Microtensile tests on plastic can be performed using the following equipment: