Why is this important? Companies and Universities spend R & D dollars testing various adhesives to determine which one will adhere to skin, but not be painful to remove.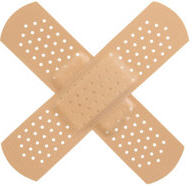 Medical tape is used for a variety of skin wounds and abrasions ranging from minor scrapes to major post-surgery bandages. Patients and Nurses alike, know that removing medical tape can be tricky because the stronger the adhesive, the more painful it is to remove. Doctors know that the strength of medical tape is important in healing. Which tape is best to use on which part of the body? For reasons like these, mechanical property testing is performed.
For this type of testing, you will need a Universal Testing Machine, a controller, and grips and fixtures. The image below shows a Peel sled. Click to see other peel grips and fixtures.